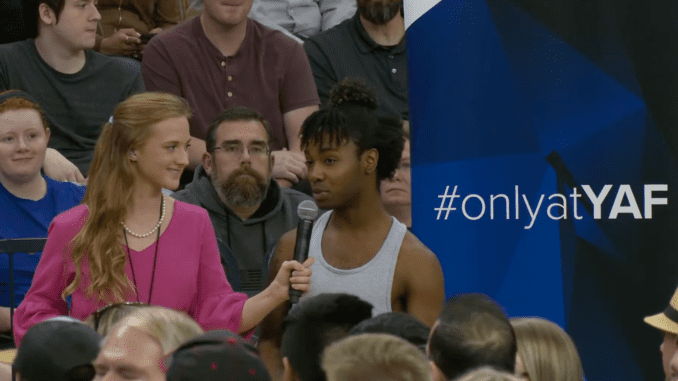 RALEIGH — A video clip of a UNCG student insulting Ben Shapiro and his wife with a comment about their sex life at a recent lecture in North Carolina has gone viral.
The event, titled "Men Cannot Become Women," was hosted by Young America's Foundation (YAG) on the UNC Greensboro (UNCG) campus on April 11.
The UNCG student making the remark to Shapiro was identified as Quentin Merritt and was one of the attendees selected to ask a question during the Q&A portion of the event.
The clip of Merritt's remarks which has gone viral was posted on Twitter by the Daily Wire, the publication co-founded by Shapiro. A warning to viewers, the clip contains strong language and sexual content:
Student who says he is a mathematician/physicist gets shut down by @benshapiro: "As a mathematician and physicist, what in the hell do you know about human biology that allows you to deny it?" pic.twitter.com/KtQti2z86u

— Daily Wire (@realDailyWire) April 11, 2022
In his opening comments, he boasted about being a "mathematician" and "physicist" and that he had recently won a prestigious National Science Foundation (NSF) Graduate Research Fellowship award. He then launched into a sexually explicit insult involving Shapiro's wife.
The fellowship, which NSF says is the "oldest graduate fellowship of its kind," spans five years, including three years of an annual stipend of $34,000 and a "cost of education allowance" of $12,000 paid to the institution.
After his nonsequitur, sexually charged comments to Shapiro about Shapiro's wife, Merritt created an Instagram video about how he "roasted Ben Shapiro." Merritt advertised the Instagram video on his Twitter account with the text "I'm Not Sorry Ben Shapiro."
In his Instagram video Merritt at times seemed to be reading his remarks. At the onset of the video, Merritt makes an unsubstantiated claim that someone shouted 'I hate all minorities'. Following that claim, he then attempts to describe his reasoning for attacking Shapiro and his wife's sex life with a reference to a "Cardi B" song that Shapiro had previously criticized. Merritt's comments to Shapiro on April 11 made no reference to this song.
Comments on the video were overwhelmingly negative with one person comparing him to actor Jussie Smollett who was convicted of perpetrating a hate crime hoax.
A number of the comments were similar in the theme that Merritt had embarrassed himself and "did not roast anything" besides himself.
Other commenters said that his video was digging him into "a deeper hole" and at least one comment said they had forwarded the Instagram video to the National Science Foundation.
North State Journal reached out to Merritt, as well as UNCG officials and the National Science Foundation for comment.
"As we have stated publicly, at UNCG we support free speech and social discourse. As a public university, we cannot regulate free expression on the basis of content, whether we agree or disagree," UNCG Associate Vice Chancellor of External Communications Eden Bloom told North State Journal in an email.
"UNCG's policies that allow student organizations to bring speakers to campus are informed by a responsibility to protect free speech and civil discourse," Bloom wrote. "The same is true for our student body, whose right to free speech is protected by the First Amendment."
With regard to the UNCG Physics Department Twitter account which restricted its tweets, Bloom said "We are aware that the social media account was made private, and we are following up with the department to ensure compliance with University social media standards and best practices."
This story is developing and will be updated.